Super Video Screen Capture - Easy Video Screen Capture Software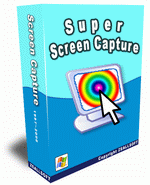 Super

Video Screen Capture

is a simple, yet effective video screen capture utility for Windows. When running, Super Screen Capture responds to preset hotkey combinations, making it easy to make screen captures without having to click on buttons or use the mouse. Super Screen Capture Classic enables you to capture screen activity, and save it as AVI video or Bitmap images. The program allows you to define the capture area by size, or Windows object - however does not provide any on-screen guide during the recording. Super

Video Screen Capture

offers a unique `follow the cursor` feature that will stay within the user defined size, however pan the video to follows your cursor. The program is good for quick and easy recordings, however the captures can be extremely large in size, unless you convert them to a different format or use DivX for video compression.
Video Screen Capture Features:
Powerful Video Screen Capture function.
Copy the screenshot to clipboard manually or automatically.
Support hot keys, user can define hot keys.
Has an easy-to-use interface.
Capture full screen, active window ,window object and any part of screen.
Repeat last capture.
Handle 'Print Screen' key.
Save picture as these formats: bmp, jpg, gif, png, avi.
Can edit image, has many editing features.
Can capture DirectX mode games.
Can capture cursor video
A history of performed actions.
Run as system tray icon.
Free Download Super Video Screen Capture Software (1.5MB)
Purchase Super Video Screen Capture Software Now ($29.95)
Related Keywords:
Screen Capture, video screen capture, screen recorder, screen recording
Products
---
Newsletters
Would you like be notified of all future news & updates regarding our products?
Please join the mailing list.
---
How to ...
How to Capture Rectangle Screen
---

More Links