How to capture scroll screen with screen capture software?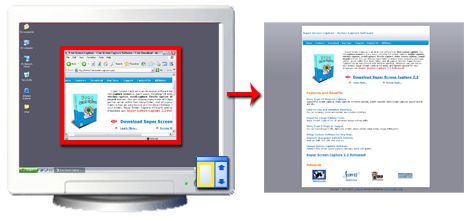 1. Click the "Scroll Screen" Button in tools bar.
2. The tools bar will hide.
3. Click the screen/webpage your want to.
4. The area will saved. You can click the output button to export.
Super Screen Capture - Excellent Screen Capture software
Super Screen Capture is a screen annotation and capture software that enables you to create enhanced screen captures, using various annotation styles to highlight or document selected details. Super Screen Capture is an easy to use screen capture and editing application, developed for tutorials, training manuals and presentations. It records all screen activities, from the movement of the mouse, the processes of applications, keyboard input to the execution of any programs. Super Screen Capture object editing tools allow you to insert various shapes of caption boxes, graphics, images, narration, background music, and sound effects in all different layers. In addition, frame-by-frame editing tools will help to make your movie look clean and give it a professional looking cut. The resulting movies can be converted to EXE, WCM and AVI - additional conversion methods and features are available in higher priced editions of the software. Super Screen Capture enables you to capture text from anywhere on the screen, even text where copy/paste is normally disabled as in message boxes, file lists and other Windows objects - if you can see it, you can copy it. The captured text can be automatically converted, printed, translated, send by email, and even spell-checked. You can also capture sections of the desktop as image files. Additional features include integrated web search for captured text, rich text editing, custom menu items and more. It allows you to draw directly on your desktop, use highlighters to mark text, add text, arrows and other shapes. You can also darken or brighten selected areas of the capture, convert them to grayscale, clone portions of the desktop into other areas and more. The resulting image can be saved in popular formats, including GIF, JPG, and PNG and automatically be sent as email attachment. The program is designed for tech support, software demonstrations and similar projects.

Download Screen Capture Software Now!

Order Super Screen Capture Software
Products
---
Newsletters
Would you like be notified of all future news & updates regarding our products?
Please join the mailing list.
---
How to ...
How to Capture Rectangle Screen
---

More Links