How to customize Hot keys with screen capture software?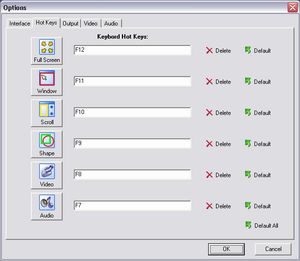 1. Click the "Options" Button in tools bar.
2. Click the "Hot Keys" page.
3. You can Change, Delete, Restore the Hot keys.
4. Click the "Ok" Button. The Hotkey will save.
Super Screen Capture - Professional Screen Capture software
Super Screen Capture is a very easy-to-use and simple screen capture software. It takes only 1 clicks to start the program, capture an image anywhere on the screen and close the program. A system tray-based program that can capture your screen or any part of it with the press of the PrintScrn key (or any other key you configure). You can adjust the captured picture`s brightness, contrast, color balance, size, color invert, or convert to grayscale or black and white. Pictures can be edited, using an image editor of your choice, printed or saved in multiple formats such as JPG, JPEG, BMP, PNG, GIF, TIF and PCX. Super Screen Capture ScreenSmart allows you to take windows screenshots easily. After capturing the screen image you can edit the image, add your text, highlight an area and more, then save, email or print it. ScreenSmart offers cut, copy, paste, crop image functionality as well as features like the zoom in, zoom out, flip horizontal/vertical, invert color, make image black and white etc. Additional features include hotkey support to activate captures and a auto-capture option. The program has many nice features but can only save to BMP and JPG format, while most shareware competitors can save to GIF as well. Since GIF is definitely the most efficient format for Windows screen captures, we consider this to be a major disadvantage. You can save the captured image as a PNG, JPEG or BMP file (no GIF support), copy it to the clipboard or send it to your printer.

Download Screen Capture Software to Capture Screen

BuyNow Super Screen Capture Software
Products
---
Newsletters
Would you like be notified of all future news & updates regarding our products?
Please join the mailing list.
---
How to ...
How to Capture Rectangle Screen
---

More Links