How to capture window screen with screen capture software?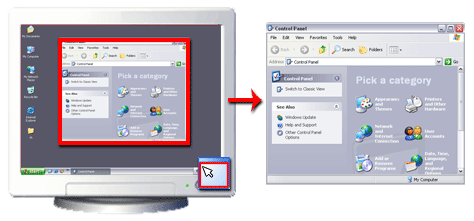 1. Click the "Capture Window" Button in tools bar.
2. The tools bar will hide.
3. When the "Capture" button is clicked, move the finger cursor over elements of the window you are capturing and each becomes red outlined.
4. You can click the output button to export.
Super Screen Capture - Easily Screen Capture software
Super Screen Capture is a Windows screen capture software, that enables you to capture desktop activity in real-time, like a movie, and then export it to Flash, AVI or standalone EXE file. Super Screen Captureis a batch screenshot utility, that allows you to capture entire web pages from a text file of URLs. The captures include the entire page without scrollbars or browser window. The captures can be saved in JPG, GIF, BMP, TIFF or PNG format. You can also edit the movie, add annotations which allows users to create and edit movies of their own desktop activity. Movies can be exported to Flash, WMV and AVI and can include sound and annotations. The program is easy to use, and requires little or no technical expertise - just click record and stop when you are done. Super Screen Capture allows you to capture freehand, rectangle, entire window, objects or regions including windows application menus and more. In addition, it sends captures to clipboard, file, graphic editor, mail, ICQ, printer or even a fax. The program can automatically email images as attachment or embedded and also capture web pages with auto-scrolling. Additional features include automatic file name generation, XML transfer, edge effects, watermarks/annotations and more. Super Screen Capture is perfect for people that frequently capture applications or part of the screen, since it is completely transparent and does not take up any additional screen space. The program supports BMP, GIF, JPG, PNG formats for saving image files. Super Screen Capture is not as sophisticated as the competition, but it costs a good deal less and produces very good results.

Free to Download Super Screen Capture Software to Capture Screen

Purchase the Super Screen Capture Software to Capture Screen
Products
---
Newsletters
Would you like be notified of all future news & updates regarding our products?
Please join the mailing list.
---
How to ...
How to Capture Rectangle Screen
---

More Links