How to custom interface with screen capture software?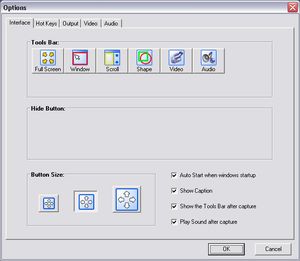 1. Click the "Options" Button in tools bar.
2. Click the "Interface" page.
3. You can Drag & Drop Button into Tools Bar or Hide Button.
4. Click the "Ok" Button. The interface will be change.
Super Screen Capture - Easily Screen Capture software
Super Screen Capture Software allows to capture and process images and text from any (even clipboard-unaware) application. You can copy text onto the clipboard, launch your internet browser or email program for further editing, sum numbers, count a number of words/characters and more. Super Screen Capture is a screen capture tool that can capture screenshots of your desktop or applications and automatically enhance them with several special effects, including drop shadows, transparency, paper edges, fading and more. The program lets you capture selected or fixed regions of the desktop, as well as active windows or individual controls (menus, dialogs etc.), which can be easily selected by an on-screen indicator which outlines the area to be captured. In addition, you can also create a thumbnail version of the screenshot, using a size you specify. The program allows you to create capture profiles, so you can quickly load settings to create a certain type of capture. The images can be saved in popular formats, including GIF and JPEG. Trial version cannot save images. Super Screen Capture allows you to process text of folder trees, file lists, database reports, text content of messages and dialog boxes, menus, status lines, visible text of legacy systems, and more. Super Screen Capture lets you save screenshots to JPEG, PDF, TIFF, PNG, BMP and TGA image files, or it can directly send them to your paper printer. It uses the default Print Screen, and allows you to specify which action to take when the PrtScreen button is pressed. You can preview the captured image, change color settings, size and more, then save it in the format of your choice. The screen capture features only offer full screen and active window capture and it lacks support for GIF images. However the option to save as PDF file as well as the enhanced printer support are not often found in screen capture tools. The program does not rely on any data communication scheme behind the scene. It uses OCR and delivers ultimate text capture and processing abilities. You can use Super Screen Capture as well for any "regular" screenshots, application interfaces etc.

Download Super Screen Capture Software to Capture Screen Now!

Purchase Super Screen Capture Software to Capture Screen
Products
---
Newsletters
Would you like be notified of all future news & updates regarding our products?
Please join the mailing list.
---
How to ...
How to Capture Rectangle Screen
---

More Links