How to capture audio with screen capture software?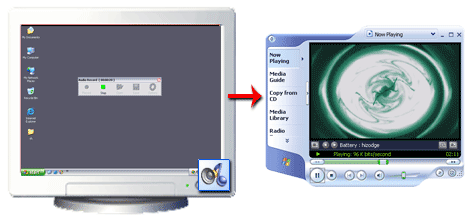 1. Click the "Audio" Button on tools bar.
2. The tools bar will hide, the Audio record window will show.
3. Click the "Record" button to record the screen audio.
4. Click the "Stop" button to stop the screen audio.
6. You can play or save this sound file.
Super Screen Capture - Quickly Screen Capture software
Super Screen Capture enables you to capture any screen of your desktop screen, even tricky items like tool tips, drop-down lists, screen savers, video displays and more. Super Screen Capture is a powerful screen capture software that comes complete with image editing tools. It captures screens from standard desktop programs as well as those hard-to-grab DirectX, Direct3D, 3dfx Glide mode games. The program tightly integrates with the Windows clipboard, and features a variety of painting and editing tools including an option to add shadow effects or frames to your screen captures. It even snags frames from many software DVD players and video editing software. Super Screen Capture can auto-scroll and capture long web pages and other documents, even capturing more than is visible on the screen. The capture images can be saved as GIF, BMP, PNG or JPG file, copied to the clipboard, send by email, or even added to the desktop as a sticky note (cool feature!). Additional features include automatic image storage, thumbnail browser and more. In addition, the included scroll capture tool allows you to make screenshots of an entire web page (or other scrolling areas), even if it extends beyond the edges of your screen. Furthermore, the program allows you to record video clips (AVI) of selected areas or the entire desktop. The program uses a handy capture toolbar that hides along the top of your screen until you need it, and offers quick access to all capture techniques.

Download Super Screen Capture to Capture Your Screen

Purchase Super Screen Capture to Capture Your Screen
Products
---
Newsletters
Would you like be notified of all future news & updates regarding our products?
Please join the mailing list.
---
How to ...
How to Capture Rectangle Screen
---

More Links